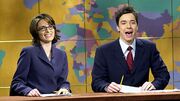 Weekend Update With Jimmy Fallon And Tina Fey was a version of Weekend Update hosted by head writer Tina Fey and cast member Jimmy Fallon. 
Origin
[
]
The previous Weekend Update version was hosted by Colin Quinn from 1999-2000. However, after he left, auditions were held over the summer of 2000. The candidates were stand up comedians Kevin Brennan and Jeff Ross, cast members Ana Gasteyer and Chris Parnell, and the winners, Jimmy Fallon and Tina Fey.
Recurring Features
[
]
Jimmy usually signed off by throwing his pencil at the camera, and cheering if he managed to hit it. Tina signed off by saying "good night, and have a great tomorrow.", taken from previous anchors Chevy Chase and Jane Curtin. There was an "Update Door", where celebrities, impersonated by cast members, would walk through to do a commentary. There was also "Terrible ReEnactments", where cast member Chris Kattan would do a bad re-telling of a news story that happened during the week, usually about a celebrity injury. There were also regular appearances from "Drunk Girl", played by Jeff Richards.
Ending
[
]
The last episode with Weekend Update with Jimmy and Tina was on May 15, 2004, where Jimmy Fallon reviewed the movie Troy, and there was an appearance of Greek Contractor Costas Popakanstantis, played by Horatio Sanz. Afterwards, Tina Fey signed off, and the camera zoomed on Jimmy, and he said the following:
"I just want to say thanks, it's my last show. Good night, and have a great tomorrow.".
He then tucked his pencil into his jacket.
He later left the show to pursue a film career.
Post-Era
[
]
Jimmy was replaced by cast member Amy Poehler, but references to Tina and Jimmy was still being mentioned. On April 9, 2005, Jimmy Fallon cameoed with Justin Timberlake on a The Barry Gibb Talk Show sketch, and then later appeared on Weekend Update sketch called, "A Dramatic Weekend Update Play", where he returned, pretending to be a father who left, picking up Tina Fey's, appearing as a mother who has been taking care of a kid all alone, child, Lorne. Amy Poehler also appears as if she was Tina Fey's new lover. Jimmy would also appear frequently as a Weekend Update anchor, anchoring the news some more times. Later on, Tina would also appear after she left in 2006, mostly with Amy. However, a notable appearing was when both she, Amy and Jimmy returned on December 17, 2011 to do a "Christmas Toy Joke Off", where duos Tina and Jimmy, and Seth and Amy tried to come up with the best joke for a christmas story about getting a free lap dance when someone gave toys to needy children in a strip club.
Fun Facts!
[
]
One time, the character Land Shark appeared on the Update Door.
References
[
]