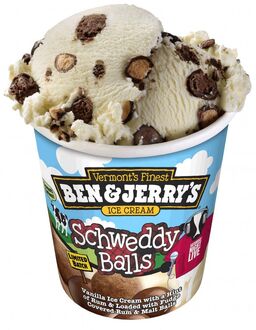 Ben & Jerry's announced their newest flavor yesterday, and it won't be long until you can get your mouth around some Schweddy Balls. That's right, Alec Baldwin's most famous SNL character, from one of the most legendary sketches, was the inspiration behind the new flavor. In the sketch, Season's Eatings baker Pete Schweddy visits his local NPR station for a chat about some holiday treats: his famous Schweddy Balls. They balls were described by the deadpan radio hosts (played by Ana Gasteyer and Molly Shannon) as tender, glistening, and larger than expected, but the new flavor is "vanilla ice cream with a hint of rum & loaded with fudge covered rum & malt balls."
Although the ice cream is being produced in a limited batch, it will be returning upon further demand, and it's hard to imagine this product failing. The balls really do glisten!
Such irrestible innuendos and the name Schweddy Balls may be too saucy for some consumers, but Ben & Jerry's, like their fans and Alec Baldwin himself, have always had a good sense of humor. In a Time press release, the actor had this to say about the new flavor: "For a long time, I thought that 'Here Lies Pete Schweddy' would end up on my tombstone. Now, thanks to Ben & Jerry's, the goodness of the Schweddy family recipe won't go with me to the great beyond. It is immortalized here, right now, and it's an ice cream. Ben & Jerry's and Schweddy. Two great names in American dessert, together at last."
If you've never seen this sketch, please do yourself a favor and watch this clip from Inside the Actor's Studio (if you're a true SNL fan, you know how strict NBC is with their clips). If you want to watch the full sketch, and an advertisement, click here. Don't forget to vote in the poll below and visit the Dessert Wiki to find some delicious recipes.
What is your favorite comedian-based Ben & Jerry's flavor (or concept)?
Community content is available under
CC-BY-SA
unless otherwise noted.