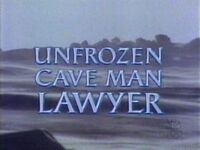 Unfrozen Caveman Laywer was a recurring character played by Phil Hartman from 1991-1996. He is a caveman who fell into a crevice whle hunting, was frozen, and several thousand years later was found by scientists and unfrozen. He then went to law school and became a lawyer.

The sketch starts out as a parody of the intro for an old television show (that tells his story, similar to The Falconer) and then a theme song- "He used to be a caveman, but now he's a lawyer./ Unfrozen caveman laywer"
After the song, a few fake commercials are shown (for absurd things like a dog assassin, pills that give you gas.)
Then the 'show' opens with Hartman ("Kirok") giving his closing argument at trial. In contrast to his caveman-like face (exaggerated brow, wild hair), Kirok wears a tailored suit and speaks with the smooth, smarmy delivery of an experienced trial lawyer. Kirok's closing argument always involves a monologue about being a caveman who is frightened and confused by modern technology, making Kirok appear simple and sincere. The monologues are peppered with references to his modern material success (a mobile phone, fancy car, vacation home in Martha's Vineyard, etc.), given the monologue a deeply disingenuous and cynical dimension. However, the closing argument is always convincing to the jury, who find in favor of Kirok's client. One sketch that was done entirely in Spanish where Kirok was a corporate lawyer for a company whose Mexican employees had sued it for mismanagment.
The sketch closes with a preview for a fictional future episode where he will use his "just a caveman speech" in a different setting, such as a political campaign for abolishment of the capital gains tax. One departure outro had a tipsy Kirok aboard an airplane asking the stewardess to get him another drink, only for her to reply that the purser has declared no more alcohol is to be sold to Kirok. The stewardess is one of the few who is not taken in by his whining that "I am just a caveman, your flying machine frightens me" and continues doing her work, leaving Kirok bellowing "I will sue you and your whole crummy airline!" It was never shown what resulted, but it was one of the few times Kirok did not get his way.
Bill Hader has said that Unfrozen Caveman Lawyer was one of his favorite sketches growing up.