Tracy Jamel Morgan (born November 10, 1968) is an American actor and comedian, best known for his work on the TV series Saturday Night Live and 30 Rock on which he plays Tracy Jordan.
Morgan was born in Brooklyn, New York, the son of musician Jimmy Morgan. After attending De Witt Clinton High School in the Bronx, he was discovered in 1984 while doing stand-up at The Apollo. Before Tracy began his career he worked in New York City as a painter working for L&L Painting and Rose Company.
Tracy Morgan began his career on Martin, where he played Hustle Man. The character sold random items he had from the 'hood, always greeting people with his trademark "What's happ'n, chief?" and had a pet chihuahua that he dressed as a rapper. In the 2003 Chris Rock film Head of State, Morgan appeared as a man watching television, often questioning why they are not watching Martin.
Tracy was also a regular cast member on "Uptown Comedy Club", a sketch comedy show filmed in Harlem, New York City which aired from 1992 to 1994 on various channels. He was also on the HBO show Snaps.
On June 7, 2014, Morgan was critically injured in a crash on the New Jersey Turnpike. The limo bus in which Morgan was riding was struck from behind by a tractor-trailer owned by Walmart, which caused the bus to overturn.[1] He has since recovered from the accident.
Morgan joined the cast of comedy show Saturday Night Live in 1996, where he performed as a regular until 2003. Morgan performed a variety of characters on the program, including Brian Fellow(s), Dominican Lou, Bishop Don "Mack" Donald (from Pimp Chat), Astronaut Jones, African Andy, Benny the Bengal, and Woodrow (a homeless man who lives in the sewer, and, despite his mental illness, is nice to the female celebrities [Britney Spears and Kate Hudson] he invites to his "home"). Morgan is also credited with impressions of Aretha Franklin, Harry Belafonte, Maya Angelou, Samuel L. Jackson, Louis Armstrong, Mike Tyson, Judge Greg Mathis, Lou Bega, Mr. T, Tito Jackson, Petri Hawkins-Byrd, Star Jones, and Al Sharpton. On March 14, 2009, Morgan returned to SNL as host and reprised his roles as Brian Fellow and Astronaut Jones. He also hosted October 17, 2015.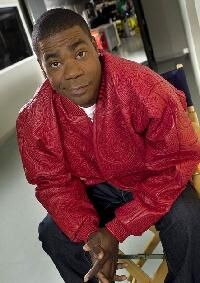 A.J.
African Andy
Benny the Bengal
Branden Alonzo
Brian Fellow
Captain Montclaire Vanderhausen III
Claudine Parker
Dominican Lou
Gary's Owner
Montel
Reggie Owens
Tate Witherspoon
Woodrow
He was impersonated by Kenan Thompson on the March 4, 2017 episode.
Community content is available under
CC-BY-SA
unless otherwise noted.