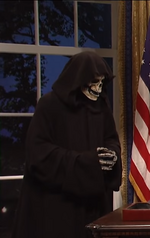 Steve Bannon is a recurring character who first appeared in 2016 when he was selected as part of Donald Trump's election campaign. He is depicted as a skeleton in a black hooded robe, and sinister music plays as he enters a sketch.
After Trump's election in 2017, he appeared in the opening segment of the February 4, 2017 SNL, coaching Trump to make phone calls to the heads of other countries while in an agitated state. Trump then calls Steve 'Mister President' and relinquishes his chair to him, going to play with a toy at a smaller desk.
On the April 15, 2017 SNL, Bannon is called in to the Oval Office along with Jared Kushner (portrayed by Jimmy Fallon) to reveal who would be kicked out of the White House in a Celebrity Apprentice-type of competition. Kushner ultimately wins, so Bannon is removed by a larger cloaked skeleton, who takes him back to Hell.
He also appears at the end of the Trump rally in Phoenix, Arizona on the Weekend Update Summer Edition for August 24th, 2018, claiming that firing him will only make him more powerful.
On the January 13, 2018 SNL, Steve Bannon removes his robe to reveal himself, portrayed by Bill Murray. He is on Morning Joe with Fire and Fury author Michael Wolff (portrayed by Fred Armisen).
Community content is available under
CC-BY-SA
unless otherwise noted.