"
Tape roll, and... take it.
"
—Original director Dave Wilson, retiring at the end of the last episode, May 13, 1995
Season 20 of Saturday Night Live premiered on September 24, 1994 with host Steve Martin and musical guest Eric Clapton and ended on May 13, 1995 with host David Duchovny and musical guest Rod Stewart.
Background
[
]
Lorne Michaels credits this season as the closest he's ever been to being fired. The show's quality had started to slide over the past season, and the decline continued this year. The sagging ratings were also hurt by the March 1995 issue of New York magazine, which ran a cover story entitled "How 'Saturday Night Live' Became a Grim Joke". The story told, in great detail, the backstage wrangling that was occurring at SNL, detailing the expensive sets and the experience of Janeane Garofalo, who'd hated her time at SNL and finally quit in February. Rumors were already flying that other networks were smelling blood in the water and planning competing shows for the timeslot (only one materialized, Fox's Mad TV). Longtime viewers complained that certain sketches, such as "Total Bastard Airlines", were not only one-joke sketches but grating and lacking any comedy at all, and as such the ratings dive was indeed deserved.
With the negative press and looming competition, a massive change was deemed necessary. Following the end of the season, most of the cast and writers quit or were fired– longtime cast members Kevin Nealon and Al Franken quit at the end of the season, as did newer hire Ellen Cleghorne. Many familiar faces who remained were dropped, including head writer Jim Downey and actors Chris Farley and Adam Sandler. (Downey was forced out as head writer but would remain at SNL, credited as "Weekend Update Producer".) Also, director Dave Wilson, who was with the show for majority of its existence, retired at the end of the season, as did long time musical director G.E. Smith.
Cast changes
[
]
Phil Hartman, Rob Schneider, Julia Sweeney, Melanie Hutsell and Sarah Silverman did not return, and Mike Myers would leave mid-season. Michaels attempted to bolster the case with new hires: Chris Elliott, Janeane Garofalo, and Laura Kightlinger. Elliott and Garofalo were made repertory players, while Kightlinger was made a featured player. Garofalo would depart halfway through the season. Norm Macdonald was promoted to repertory status and made Weekend Update's latest anchor, replacing Kevin Nealon, who stepped down because anchoring Update was preventing him from appearing in regular sketches.
As the season progressed, Mark McKinney, Molly Shannon, and Morwenna Banks were added to the cast at various points mid-season. McKinney was hired from the then-recently ended sketch show The Kids in the Hall, which was produced by Michaels, Shannon was added as a replacement for the departing Mike Myers, and Banks was intended to replace Garofalo. Joining just a few episodes before the end of the season, Banks' tenure remains one of the shortest in the show's history.
This is the final season for Kevin Nealon, Mike Myers, Al Franken, Chris Farley, Adam Sandler, Ellen Cleghorne, Jay Mohr, Michael McKean, and the only season for Garofalo, Elliot, Kightlinger and Banks. For the following season, only Norm Macdonald and David Spade would remain from the start of the season, though Spade remained specifically to integrate the new cast, appearing only as himself. Tim Meadows was initially fired but was rehired and would remain for several more years. Midseason replacements Mark McKinney and Molly Shannon were also retained.
This was also the final season for director Dave Wilson and bandleader G. E. Smith, who had been with the program since its first and eleventh seasons, respectively.
Cast
[
]
Repertory
[
]
Morwenna Banks

Ellen Cleghorne

Chris Elliott

Chris Farley

Janeane Garofalo

Norm MacDonald

Michael McKean

Mark McKinney

Tim Meadows

Mike Myers

Kevin Nealon

Adam Sandler

 

David Spade
Featured
[
]
| | |
| --- | --- |
| Al Franken | Laura Kightlinger |
| Jay Mohr | Molly Shannon |
Changes
[
]
Mark McKinney: First January 14
Mike Myers: Last January 21
Molly Shannon: First February 25
Janeane Garofalo: Last February 25
Morwenna Banks: First April 8
Al Franken: Last May 6
Births
[
]
Deaths
[
]
Gallery
[
]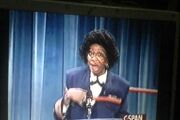 [

]