"
That's the news, and I am outta here!
"
—Dennis Miller signing off for the final time, May 18, 1991
Saturday Night Live began its sixteenth season on September 29, 1990, with an episode hosted by Kyle MacLachlan, and ending on May 18, 1991, with an episode hosted by George Wendt. This was the first season without Nora Dunn and Jon Lovitzas regular cast members since season 10.
The beginning of this season added Chris Farley and Chris Rock, with Rob Schneider, Julia Sweeney and David Spade, Adam Sandler and Tim Meadows being added during the season's run. The end of the season saw the departures of Dennis Miller, Jan Hooks, and A. Whitney Brown.
After the end of the season, Chris Farley, Chris Rock, and Julia Sweeney were promoted to repertory status, and Adam Sandler, Rob Schneider, and David Spade were promoted to the new middle group.
Cast
[
]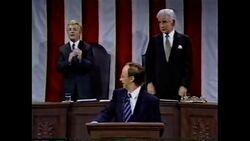 Starting this season, the cast was divided into three groups. A middle group was created; these cast members were shown in video clips like the repertory cast (as opposed to still photos, which were and had been used for featured players). This new category would be introduced with the word "with", though "with" was sometimes used to introduce the repertory players (Don Pardo variously used "with" or "starring"). The first members were two new cast members, Chris Farley and Chris Rock; Tim Meadows and Julia Sweeney were placed into this group mid-season.
Repertory
[
]
Dana Carvey

Phil Hartman

Jan Hooks

Victoria Jackson

Dennis Miller

Mike Myers

 

Kevin Nealon
Also starring
[
]
| | |
| --- | --- |
| Chris Farley | Tim Meadows |
| Chris Rock | Julia Sweeney |
Featured
[
]
| | | |
| --- | --- | --- |
| A. Whitney Brown | Al Franken | Adam Sandler |
| | |
| --- | --- |
| Rob Schneider | David Spade |
Changes
[
]
Rob Schneider: First October 27
David Spade: First November 10
Julia Sweeney: First November 10
Adam Sandler: First January 12
Tim Meadows: First February 9
Births
[
]
Episode Guide
[
]
Episode Number
Air Date
Host(s)
Musical Guest(s)
287 (16.1)
September 29, 1990
Kyle MacLachlan
Sinead O'Connor
288 (16.2)
October 6, 1990
Susan Lucci
Hothouse Flowers
289 (16.3)
October 20, 1990
George Steinbrenner
The Time
290 (16.4)
October 27, 1990
Patrick Swayze
Mariah Carey
291 (16.5)
November 10, 1990
Jimmy Smits
World Party
292 (16.6)
November 17, 1990
Dennis Hopper
Paul Simon
293 (16.7)
December 1, 1990
John Goodman
Faith No More
294 (16.8)
December 8, 1990
Tom Hanks
Edie Brickell & New Bohemians
295 (16.9)
December 15, 1990
Dennis Quaid
The Neville Brothers
296 (16.10)
January 12, 1991
Joe Mantegna
Vanilla Ice
297 (16.11)
January 19, 1991
Sting
298 (16.12)
February 9, 1991
Kevin Bacon
INXS
299 (16.13)
February 16, 1991
Roseanne Barr
Deee-Lite
300 (16.14)
February 23, 1991
Alec Baldwin
Whitney Houston
301 (16.15)
March 16, 1991
Michael J. Fox
The Black Crowes
302 (16.16)
March 23, 1991
Jeremy Irons
Fishbone
303 (16.17)
April 13, 1991
Catherine O'Hara
R.E.M.
304 (16.18)
April 20, 1991
Steven Seagal
Michael Bolton
305 (16.19)
May 11, 1991
Delta Burke
Chris Isaak
306 (16.20)
May 18, 1991
George Wendt
Elvis Costello