Saturday Night Live Christmas (also An SNL Christmas) is a two-hour primetime special that features a variety of Saturday Night Live sketches, themed towards Christmas. The special appears yearly since 2012 and has been updated in Season 39 and Season 42.
All sketches are pretaped from the night they were originally broadcasted.
 Cold Open   Sketch   Pre-recorded   Weekend Update   Music Performance   Other 
| Title | Image | Summary |
| --- | --- | --- |
| Santa's My Boyfriend | | While trimming a Christmas tree, three ladies (Amy Poehler, Maya Rudolph, Kristin Wiig) find they have someone in common as they break into song. Broadcasted on December 16, 2006. |
| Monologue by Jimmy Fallon | | |
| Mark Jensen Family Christmas | | |
| Santa's Workshop |   | When output from the elves at Santa's Workshop is low, efficiency expert, Winter's Breath (Alec Baldwin), is brought in to verbally harass their little asses into gear. Brodcasted on December 10, 2005. |
| Homelessville | | A Salvation Army bellringer dressed as Santa Claus (Will Forte) faces donation competition from Homelessville's Cup-of-Soup mascot (Justin Timberlake). Broadcasted on December 16, 2006 |
| TV Funhouse: Christmastime For The Jews |   | Robert Smigel's spoof of 1960's animated holiday specials, Darlene Love delivers a Claymation chorus of "Christmastime For the Jews." Broadcasted On December 17, 2005 |
| A Holiday Wish |   | Steve Martin outlines his holiday wish for singing children. Broadcasted on December 6, 1986 |
| Weekend Update With Norm MacDonald |   | Adam Sandler sings his "Chanukah Song". Broadcasted on December 3, 1994 |
| Monologue by John Malkovich |   | John Malkovich tells the story "The Night Before Christmas" to a group of children. |
| Monologue by Jeff Bridges | | Jeff Bridges explains how he's different than The Dude from "The Big Lebowski", then sings "Silver Bells" with Cookie Monster. Braodcasted on December 18, 2010 |
| Michael Buble Christmas Duets | | Michael Bublé performs Christmas duets with Justin Bieber (Jimmy Fallon) and other unlikely performers. Broadcasted on December 2011 |
| Winter Wonderland | | Garrett Morris performs "Winter Wonderland," backed up by Candice Bergen, Laraine Newman, Gilda Radner, Dan Aykroyd, John Belushi, Chevy Chase, and the Saturday Night Live Band, with bass saxophone solo by Howard Shore. This sketch is often omitted from shortened airings of the Christmas special. Broadcasted on December 20, 1975. |
| Goodnights with Bruce Springsteen |   | Bruce Springsteen and the E-Street Band perform "Santa Clause is Coming To Town" with Paul McCartney, Tina Fey, and Amy Poehler |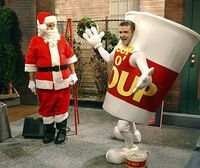 Saturday Night Live Christmas has been revised several times to add sketches from later years of SNL. "" originally opened the special; the "live from New York" line is cut and it remains in current versions. The following sketches were included in earlier revisions, but have since been dropped:
2000s revision
Edit
Sketches added

Santa's My Boyfriend
Jimmy Fallon's season 37 Christmas song monologue
Michael Buble's Christmas Duets
I Wish It Was Christmas Today
John Malovich's "Night Before Christmas" monologue
Drunk Uncle's Christmas Weekend Update appearance
The original "Homelessville"
Christmas For The Jews
Glengarry Glen-Christmas
Mark Jensen Family Christmas
Dick in a Box
Robert Goulet All Holiday Special
Jeff Bridges monologue

Sketches removed

Santi-Wrap (original airdate December 10, 1976)
Hanukkah Harry (original airdate December 16, 1989)
Desert Island Christmas (original airdate December 19,1987)
Grimaldi Classic Creations (original airdate December 2, 1995)
Dysfunctional Family Christmas (small excerpt of Dana Carvey, original airdate December 15, 1990)
The Church Lady and Danny DeVito (small excerpt of the drum solo, original airdate December 5, 1987)
Rita DelVecchio's Thanksgiving (original airdate November 22, 1997)
Season's Greetings sketches, both an early incarnation with Tarzan, Tonto, and Frankenstein, and a later version with Tonto, Frankenstein, and Chris Farley
Merry Christmas, Dammit
Mr. Robinson's Christmas

"Christmas Eve At The White House" was changed from the opening sketch to a later inclusion, with the "live from New York" line cut
2014 revision
Edit
In another round of changes, the original "Homelessville" was dropped in favor of a newer version with Jimmy Fallon, "Wrappinville"
Sketches removed

Closing shot of the original cast ice skating at Rockefeller Center

Sketches added

Charlie Brown Christmas
What's Up With That? with Carrie Brownstein and Samuel L. Jackson
The Girl You Wish You Hadn't Started a Conversation With At A Party
Do It On My Twin Bed
Your Hometown
Paul McCartney and Martin Short ending
2016 revision
Edit
"Homelessville" returned, replacing "Wrappinville"
The excerpt of "Dysfunctional Family Christmas" returned
A small excerpt of "Mr. Robinson's Christmas" returned
Sketches removed

Christmas Eve at the White House
Charlie Brown Christmas
What's Up With That? with Carrie Brownstein and Samuel L. Jackson
Your Hometown
Paul McCartney and Martin Short ending

Sketches added

Christmas Mass Spectacular
Santa Baby
Bruce Springsteen ending
Community content is available under
CC-BY-SA
unless otherwise noted.