This page may require cleanup.
See the
style guide
for help on editing articles.
The following items need fixed: Needs season links fixed from years to correct links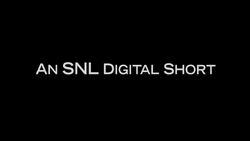 An SNL Digital Short is a short comedic or musical video segment created for airing on NBC's Saturday Night Live.
Most Digital Shorts are produced by The Lonely Island and written by Akiva Schaffer, Jorma Taccone and Andy Samberg in collaboration with SNL hosts and cast members. The segments were originally recorded with consumer grade digital video cameras and edited on personal computers. It is usual for the episode's hosts and musical guests (the latter on rarer occasions) to take part in the episode's short, and several shorts have included celebrity cameos.
The shorts generally take fewer than five days to complete. Schaffer has directed all the shorts and Taccone along with his brother, Asa, have produced music as necessary. So far SNL has aired 46 digital shorts, eight of which are performed by The Lonely Island and eleven of which are the multiple part MacGruber sketches. Many of the musical shorts were remastered and released in The Lonely Island's album, Incredibad, or created specifically for the album and then featured in shorts during the 2008-2009 season.
With the departure of Samberg in 2012, it has been speculated that the era of the explicit SNL Digital Short is over, although a Digital Short was released on January 26, 2013.
Note: Some of the external links below are only accessible to those who reside in the United States.
A total of 11 shorts were created for 2005-2006.
Title
Written by
Directed by
Original airdate
Description
Lettuce
Will Forte
Andy Samberg
Akiva Schaffer
Jorma Taccone[1]
Akiva Schaffer[1]
December 3, 2005
In what is revealed to be a commercial for the vegetable, two friends (Will Forte, Andy Samberg) discuss the death of an unnamed friend while taking large bites out of heads of lettuce. Written and film in November 2005 and originally cut from dress rehearsal of the Eva Longoria episode.
Lazy Sunday
Andy Samberg
Akiva Schaffer
Jorma Taccone
Chris Parnell[2]
Akiva Schaffer[2]
December 17, 2005
Chris Parnell and Samberg rhyme about The Chronicles of Narnia: The Lion, the Witch and the Wardrobe, cupcakes, Mr. Pibb, Red Vines, Matthew Perry, and a host of other products. Music produced by Jorma Taccone.[2]
Young Chuck Norris
Andrew Steele[3]
Akiva Schaffer
January 21, 2006
A Chuck Norris fan (Jason Sudeikis) sings a ballad for him with an accompanying music video. In this video, Chuck Norris is played by Andy Samberg
Close Talkers
Will Forte[4]
Akiva Schaffer[4]
February 4, 2006
Two old friends from school (Forte, Steve Martin) meet up after years apart, greeting each other loudly while standing with their faces only an inch apart.
The Tangent
Bill Hader[5]
Akiva Schaffer[5]
February 4, 2006
Joel (Fred Armisen) rambles endlessly about a restaurant he visited, and becomes so involved in the story, he fails to notice that he is discovered by talent scouts (Bill Hader, Parnell), stars in a movie with Scarlett Johansson, becomes a national phenomenon and then loses it all when his movie flops at the box office. Brian Williams, MTV correspondent Gideon Yago, and Conan O'Brien also make cameos.

This short was filmed the week of the Scarlette Johansson episode, but was cut after dress rehearsal.

Natalie's Rap
Andy Samberg
Akiva Schaffer
Jorma Taccone
Asa Taccone[7]
Akiva Schaffer[7]
March 4, 2006
Natalie Portman is interviewed about her life and responds with a rap proving she is a "badass bitch", poking fun at her clean and intellectual image. She slaps Seth Meyers and throws a chair at Parnell. Samberg appears as Flavor Flav. Music produced by Jorma Taccone and Asa Taccone, and mixed by Ben Lovett.[7]
Dopplegangers
Andy Samberg
Akiva Schaffer
Jorma Taccone[8]
Akiva Schaffer[8]
March 11, 2006
Meyers, Forte, and Samberg are on a lunch break and start to notice that each one has a doppelgänger nearby. After Meyers and Forte say that a large bum (Horatio Sanz) is Samberg's doppelgänger, they kill the real Samberg in an evil twin scenario.
Laser Cats!
Andy Samberg
Akiva Schaffer
Jorma Taccone[9]
Akiva Schaffer[9]
April 15, 2006
Hader and Samberg pitch to SNL executive producer Lorne Michaels their new ultra low-budget Digital Short, Laser Cats! The short within the short features the fallout of a nuclear war, in which cats can shoot lasers from their mouths and thus be used as weapons. Hader and Samberg, shooting the short in the SNL offices and playing the heroes, Nitro and Admiral Spaceship, have to rescue a princess (Lindsay Lohan, who is not in on the joke and gets replaced by Rachel Dratch).
My Testicles
Unknown
Akiva Schaffer
May 6, 2006
Friends in the early 1990s (Kenan Thompson, Forte, and Parnell) discuss the music video by pop stars Ariel (Andy Samberg) and Efrim (Tom Hanks), where we see the lyrics consist of constantly begging for their testicles not to be harmed, in a parody of Right Said Fred's "I'm Too Sexy" and C+C Music Factory's "Everybody Dance Now". Jorma Taccone appears as a backup dancer.
Peyote
Will Forte
Andy Samberg
Akiva Schaffer
Jorma Taccone
Akiva Schaffer
May 13, 2006
An apparent suicide jumper (Samberg) is negotiated with by a man on a bullhorn (Forte). After a bit of dialogue, it is revealed that the "jumper" is safely on the ground and the man with the bullhorn is mere inches away from him. This is revealed to be a commercial for peyote. This written and filmed back in November at the same time as the Lettuce short. This would explain how it is similar to that short.
Andy Walking
Unknown
Akiva Schaffer
May 20, 2006
Samberg asks factual questions of passers-by outside NBC Studios in the style of the Jay Leno bit Jaywalking, instead laughing off correct answers as false.
A total of 12 shorts were created for 2006-2007.
Title
Written by
Directed by
Original airdate
Description
Cubicle Fight
Unknown
Akiva Schaffer
September 30, 2006
New office employee Gary (Hader) gets into a fight to the death with incumbent cubicle holder Steve (host Dane Cook).
Harpoon Man
Unknown
Akiva Schaffer
October 21, 2006
Harpoon Man (John C. Reilly), a suave action hero and parody of Shaft, tracks down an insulting announcer dressed as a whale (Samberg), who is narrating his life in a theme song.
Pep Talk
Fred Armisen
John Lutz[10]
Akiva Schaffer
December 9, 2006
A fast food boss (Armisen) gives his employees (Forte, Matthew Fox, Amy Poehler, Samberg, Thompson) a pep talk and has trouble controlling his anger until one of his employees (Forte) comes in late. It originally was scheduled to air on the episode hosted by Matthew Fox (which explains his appearance), but ended up airing on the following episode hosted by Annette Bening.
Dick in a Box [11]
Justin Timberlake
Andy Samberg
Akiva Schaffer
Jorma Taccone
Asa Taccone
Katreese Barnes
Akiva Schaffer
December 16, 2006
A Christmas song about two men (Justin Timberlake and Samberg) giving their lovers (Kristen Wiig and Maya Rudolph) a box with their genitalia inside as presents, in a style reminiscent of early 1990s R&B sex ballads made popular by acts such as Bel Biv Devoe, Color Me Badd, and R. Kelly. Won a 2007 Creative Arts Primetime Emmy for Outstanding Music and Lyrics. Music created in part by Asa Taccone and Katresse Barnes.[12]
Laser Cats! 2
Unknown
Akiva Schaffer
January 13, 2007
Hader and Samberg apologize to Lorne Michaels for the original Laser Cats! claiming to understand where they went wrong: not enough politics. They then introduce Laser Cats! 2, based on the same premise, but now it was the Iraq War that had gone nuclear and caused the feline mutations. This time, Dr. Scientist (Jake Gyllenhaal) has stolen the cure that turns Laser Cats back into regular cats.
Nurse Nancy
Unknown
Akiva Schaffer
January 20, 2007
Scott Garbaciak (Samberg) is the multi-role star of the fictional film Nurse Nancy, in parody of Eddie Murphy films such as Norbit and The Nutty Professor.
Body Fuzion [13]
Amy Poehler
Maya Rudolph
Kristen Wiig[14]
Akiva Schaffer
February 3, 2007
Drew Barrymore is Desiree, host of a 1986 sexually suggestive, low-impact, high-result exercise video Body Fuzion, with "her friends" Donna, Michelle, and Donna M. (Rudolph, Wiig, and Poehler respectively).
Andy Popping Into Frame
Unknown
Akiva Schaffer
February 10, 2007
Samberg quietly pops into view as the camera routinely cuts to different locations and landmarks. Forte soon begins doing the same a few times, before being forced out at gunpoint.
Business Meeting
Unknown
Jorma Taccone
February 24, 2007
A corporate executive (Rainn Wilson) leads a meeting to take ideas on how to save his failing company, and hears suggestions from an increasingly bizarre set of employees, including a gigantic turkey sub and Arcade Fire. Upon reaching the end of the meeting, Wilson receives a phone call informing him that the office building is about to be blown up.
The Shooting Video
Unknown
Akiva Schaffer
April 14, 2007
In a spoof of The O.C. episode "The Dearly Beloved", a man (Hader) writes a letter to his sister, he is shot by his friend (Samberg), leading to a series of overly-dramatic, slow-motion shootings set to "Hide and Seek" by Imogen Heap, including their roommate (Shia LaBeouf), the sister (Wiig), and two police officers (Sudeikis, Armisen).
Roy Rules!
Unknown
Jorma Taccone[15]
April 21, 2007
Samberg performs a rhyme about how much he likes his brother in-law named Roy (SNL writer Brian Tucker).
Talking Dog
Unknown
Akiva Schaffer
May 19, 2007
While meeting the owner of an apartment he's about to rent (Zach Braff), a man (Samberg) is shocked to find out that the owner's dog can not only talk (with the voice of SNL writer Jorma Taccone), but has fallen in love with him. Later he finds out that the dog was using him to get a plate of ham. The owner implies that this happens regularly, but the dog convinces the man that it's still something more, and the man ends up french kissing the dog.
A total of 11 shorts were created for 2007-2008.
Title
Written by
Directed by
Original airdate
Description
Iran So Far
Andy Samberg, Jorma Taccone, Akiva Schaffer
Akiva Schaffer
September 29, 2007
Samberg sings a love song for Mahmoud Ahmadinejad (Armisen), along with Adam Levine from Maroon 5, sampling "Avril 14th" by Aphex Twin. Jake Gyllenhaal has a cameo.
People Getting Punched Right Before Eating
Andy Samberg
Akiva Schaffer
Jorma Taccone[16]
Akiva Schaffer
October 13, 2007
Samberg punches people before they get to eat then gleefully dances afterwards; victims include Forte, Armisen, Sudeikis, host Jon Bon Jovi, and Taylor Hawkins and Dave Grohl of the Foo Fighters. The short shares the style of Andy Popping Into Frame.
Brian Diaries
Unknown
Akiva Schaffer
November 3, 2007
Brian Williams describes a day in his life, including watching footage of himself, meditating while the disembodied head of Bono praises him, and dropping pennies on Al Roker and Matt Lauer from the NBC building.
Grandkids in the Movies
Unknown
Akiva Schaffer
February 23, 2008
An old man presents films which have his grandsons (Hader and Samberg) digitally inserted in order to help old people be more comfortable with today's films.
The Mirror
Unknown
Akiva Schaffer
March 1, 2008
A girl (Ellen Page) wakes up from a nightmare and begins seeing a zombie (Samberg) in her bathroom mirror, which turns out to be the nightmare of the zombie, a wolf man (Forte), and a woman named Debbie (Wiig) married to Dracula (Sudeikis).
Hero Song
Unknown
Akiva Schaffer
March 8, 2008
An apparently wealthy man (Samberg) sings about crime infecting the city, then turns into a superhero (à la Batman) and tries to save a woman (Amy Adams) from being mugged, only to have the mugger (Sudeikis) beat up the superhero.
Andy's Dad
Jonah Hill, Andy Samberg, Akiva Schaffer
Akiva Schaffer
March 15, 2008
Jonah Hill confesses to Samberg about how he has fallen in love with his father, Ben Samberg (played by longtime SNL writer Jim Downey). Hader also confesses the same thing.
Laser Cats! 3D
Unknown
Akiva Schaffer
April 5, 2008
Samberg and Hader attempt to pitch Laser Cats to Lorne again, this time with a scene enhanced by 3D glasses. The plot revolves around a ban on all laser cats and a battle against the corrupt Mayor Top-Hat (Thompson). Christopher Walken appears as the general and Senator Christopher Dodd cameos as himself (watching the short while having dinner with Lorne).
Daiquiri Girl
Unknown
Akiva Schaffer
April 12, 2008
Samberg appears in an amateur, early-90s music video about a girl who loves to drink daiquiris. Meanwhile, text scrolls up the screen explaining that the producers apologize for airing the video because a certain musical guest (Gnarls Barkley) failed to appear for the shooting of a digital short, despite an agreement to do otherwise.
The Best Look in the World
Andy Samberg, Akiva Schaffer
Akiva Schaffer
May 10, 2008
Samberg and host Shia LaBeouf sing a high-energy country song about Samberg's new dress shirt, black socks, no pants look (the best look in the world).
Japanese Office
John Lutz
Marika Sawyer[17]
Akiva Schaffer[17]
May 17, 2008
Ricky Gervais presents a clip from a Japanese show that was his inspiration for The Office, featuring Japanese versions of Michael (Steve Carell), Dwight (Hader), Jim (Sudeikis), Pam (Wiig), and Stanley (Thompson). Also, Darrell Hammond plays Regis Philbin in a tampon commercial. At the end of the episode, Gervais comments "It's funny 'cause it's racist".
A total of 16 shorts were created for the 2008-2009 season.
Title
Written by
Directed by
Original airdate
Description
Space Olympics
Andy Samberg
Jorma Taccone
Akiva Schaffer
Akiva Schaffer
September 13, 2008
Samberg sings through an autotuner, while wearing a white pompadour wig and spangled jumpsuit. His song promotes a low budget, ill-planned, ultimately doomed athletic competition held in space in the year 3022. Athletes are portrayed by Sudeikis, Casey Wilson, Hader, and real-life Olympian and episode host Michael Phelps.
Murray Hill
Unknown
Jorma Taccone
September 20, 2008
In this spoof of teen dramas, a young man (James Franco) is talked to by a girl (Kristen Wiig). Some small talk is made, until the subject of his small "ding-dong" comes up. Then another girl (an uncredited cameo by future season 35 host Blake Lively) comes up to him and tells him she has a small "ding-dong", too.
Extreme Challenge
Unknown
Akiva Schaffer
October 4, 2008
Samberg and Wiig compete in nonsensical activities, from arm wrestling to human ATM. Forte is the pathetic referee, Thompson is an ATM customer, and Anne Hathaway appears when Andy turns into Jane Austen.
Ras Trent
Andy Samberg
Akiva Schaffer
Jorma Taccone
D. Carey
Sly Dunbar
Robbie Shakespeare
Akiva Schaffer
October 25, 2008
Samberg plays a college student who has converted to Rastafari, who sings boastfully (and stereotypically) about the culture, while being aware that he's not fit for it when he walks by a group of actual Rastas. Wiig and Wilson appear as backup singers. (The real backup is actually provided by J. Newsom and Maya Rudolph). In the Incredibad version, the song ends with a fade. Music produced by Sly & Robbie.[18]
Everyone's A Critic
Unknown
Akiva Schaffer
November 15, 2008
In a clip from Paul Rudd's new movie, Samberg romantically paints him nude and then Rudd returns the favor. While selling the painting at an auction, it is shown to be so graphic that everyone who sees it begins convulsing violently, vomiting, bleeding from the eyes, and committing violent acts of suicide. Armisen appears as the auctioneer, Wilson as the interviewer, Hader and Wiig as Indiana Jones and Marion Ravenwood respectively (they appear tied to a post with their eyes closed while everyone else is dying after seeing the painting, parodying the ending of Raiders of the Lost Ark).
Virgania Horsen's Pony Express
Unknown
Akiva Schaffer
December 6, 2008
Wiig reprises her role as Virgania Horsen in a crudely-made commercial for her new business, which consists of mail delivery by horse. *Note the original Virginia Horsen short did have the Digital Short title in front of it. According the credits, these shorts were all directed by Jorma.
Jizz in My Pants Uncensored Clean version
Andy Samberg
Jorma Taccone
Akiva Schaffer
Michael Forno
Akiva Schaffer
December 6, 2008
The Lonely Island sings about premature ejaculation, often at the slightest provocation. Fellow Lonely Island member and director, Akiva Schaffer shows up in the video as a DJ(Schaffer rarely shows up on-screen). Molly Sims, Jamie-Lynn Sigler, and Justin Timberlake make cameo appearances (Timberlake appears as a janitor). The music video is for their first single of their debut album, Incredibad.[19]
Cookies
James Anderson
Fred Armisen
Akiva Schaffer
December 13, 2008
An executive (Hugh Laurie) announces to the department heads that things are not going well and drastic steps may need to be taken. During this, Marcus (Armisen) begins outstretching himself to eat cookies on the table. At the end of the skit, another executive (Thompson) reveals that the "cookies" are really laxatives.
Doogie Howser Theme
Unknown
Akiva Schaffer
January 10, 2009
Neil Patrick Harris and the entire cast perform the theme to Doogie Howser, M.D.. While Harris wears a tuxedo, the SNL cast dresses as Doogie Howser, wearing lab coats, a picture ID of Doogie, dress shirts, blond wigs, colorful ties, acid washed jeans, and Nike hi-tops (Armisen and Samberg wear green sunglasses as well). Harris plays keyboard; Wilson, Abby Elliott, and Michaela Watkins play violin; Bobby Moynihan plays tuba; Thompson plays harp; Hader plays saxophone; Hammond plays trumpet; Wiig plays electric guitar; Sudeikis plays double bass; Forte plays drum kit; Armisen plays synthesizer; and Samberg plays an Akai MPC 2000XL drum machine. At the end of the performance, Harris sheds a tear.
A Couple of Homies
Unknown
Unknown
January 17, 2009
Samberg and Armisen casually talk in a break room while Forte sings about every little thing that they're doing (giving each other a high five, reading a magazine, drinking soda, and wearing dresses). At the end, it's revealed to actually be a commercial for D.A.R.E.. It was originally cut from the Ben Affleck dress rehearsal.
[[Laser Cats 4-Ever!]
Unknown
Akiva Schaffer Jorma Taccone
January 31, 2009
Steve Martin walks into the office of Lorne Michaels with yet another half baked Laser Cats episode. It is evident that Samberg and Hader have put Martin up to it, as well as crediting him as "Executive Producer" of Laser Cats 4. A robot Cyber-Face (Thompson) goes haywire, but it is revealed to be Admiral Spaceship's father (Martin), who reveals that Spaceship and Nitro are brothers before self-destructing. At the end of the skit Lorne Michaels orders them all out of his office.
I'm on a Boat Uncensored Clean version
Andy Samberg
Akiva Schaffer
Jorma Taccone
Adam Cherrington
Akiva Schaffer
February 7, 2009
From The Lonely Island's album Incredibad. Samberg wins a prize from a cereal for a boat trip for three and selects himself, Akiva Schaffer and surprisingly, T-Pain while Jorma Taccone stays out of the excitement. Then the group proceeds into a highly aggressive, profane rap song about sailing on a boat, including fifteen uses of the word "fuck". The second single from the Lonely Island's debut album 'Incredibad'.
Property of the Queen
Unknown
Akiva Schaffer Jorma Taccone
February 14, 2009
Samberg blackmails the Jonas Brothers with a videotape of them as an 80s band called Property of the Queen. Samberg ultimately wants to know how they stayed young for 25 years and it is revealed that the wizard (Hader) featured in one of their music videos kept them young. Thompson, Forte and Moynihan appear as band members.
Party Guys
Unknown
Akiva Schaffer
March 14, 2009
Samberg and Hader are at a party where everyone and everything is a literal representation of a slang term (i.e., a "serial rapist" (Forte) is shown having sex with a box of cereal, a group of "motherfuckers" are men with their mothers, a group of "sons of bitches" are a litter of puppies, a "numbnuts" is a man (John Lutz) shown sitting on a block of ice with his pants around his ankles, a group of "jokers" are dressed as different incarnations of The Joker from The Dark Knight, a knucklehead is a hand with plastic eyes glued on it, etc). When Samberg and Hader discover "two douchebags", however, it's revealed that they're looking at themselves in a mirror.
Like a Boss Uncensored
Andy Samberg
Akiva Schaffer
Jorma Taccone
Aleric Banks
Akiva Schaffer Jorma Taccone
April 4, 2009
The Lonely Island rap about what it's like for the boss of a big company. Samberg describes his average day, which initially features plausible activities such as approving memos and sending faxes; however, his actions become increasingly erratic, and eventually, overtly surreal (for example, having sex with a giant fish in the sewer). From their Incredibad album. Seth Rogen replaces Akiva as the company evaluator in the music video, though Akiva does appear in the video as a hooded gun dealer.
Motherlover
Andy Samberg
Akiva Schaffer
Jorma Taccone
Justin Timberlake[20]
Akiva Schaffer
Jorma Taccone[20][21]
May 9, 2009
Five months after the events of "Dick in a Box," Samberg and Timberlake's characters (who have just been released from prison) sing about special gifts for Mother's Day, with Susan Sarandon and Patricia Clarkson appearing as their mothers. They decide the best present for them would be for them to have sex with the other's mother. They proclaim it is the second best idea they have ever had. Music originally omitted from sessions for the album Incredibad, as produced by Asa Taccone and Drew Campbell.[20]
Title
Written by
Directed by
Original airdate
Description
The Date
John Solomon
Will Forte[22]
John Solomon Akiva Schaffer[22]
September 26, 2009
A man (Forte) with a strained voice discusses his life commanding a SWAT team and raising lambs for slaughter with an increasingly fascinated date (Megan Fox).
Megan's Roommate
Unknown
Akiva Schaffer
September 26, 2009
Andy Samberg is brought home by Megan Fox, and meets her hostile roommate "Optimus Prime" (Moynihan), a man wearing a bathing robe and a mask of the Transformers character. Cameo by Brian Austin Green as "Bumblebee".
On the Ground
Unknown
Akiva Schaffer[23]
October 3, 2009
A beatnik (Samberg) raps about throwing many things offered to him "on the ground," in order to show his anti-conformist nature, until he throws Ryan Reynolds' and Elijah Wood's (both appearing as themselves) dinner on the ground and the two celebrities chase down the beatnik and taser him in the butthole.
Brenda & Shaun
Unknown
Akiva Schaffer
October 10, 2009
A 1990's commercial for two amateur laser magicians (played by Fred Armisen and episode host Drew Barrymore).
Firelight
Unknown
Akiva Schaffer
November 7, 2009
In this parody of the movie adaptation of Twilight, a high school girl (played by host and musical guest Taylor Swift) falls for Frankenstein's monster (played by Bill Hader).
Get Out!
Unknown
Akiva Schaffer
November 14, 2009
A man (Fred Armisen) keeps barging in on his roommate (Andy Samberg) sitting on the toilet — even when Armisen is at the gym, on an elevator, and walking outside of Studio 8H at 30 Rockefeller Center.
Two Worlds Collide (ft. Reba McEntire)
Unknown
Akiva Schaffer
November 21, 2009
Andy Samberg sings a very raunchy techno/hip-hop ballad about his love, a man pretending to be Reba McEntire (played by Kenan Thompson).
Shy Ronnie
Video
Unknown
Unknown
December 5, 2009
Rihanna and Shy Ronnie (Samberg) perform an uplifting song for some elementary school students, which is ruined by Shy Ronnie's weak singing.
Tizzle Wizzle
Unknown
Unknown
December 19, 2009
James Franco guest stars on a children's show about wearing "jammies". However, the show ends with everyone picking out knifes, then taking pills, and killing each other. Franco survives and is declared the "king".
| Title | Written by | Directed by | Original airdate | Description |
| --- | --- | --- | --- | --- |
Title
Written by
Directed by
Original airdate
Description
Stomp
Andy SambergJorma Taccone
Jorma Taccone
October 1, 2011
V-Necks
Andy Samberg

John Solomon

John Solomon
October 8,2011
Drake Interview
Andy Samberg

John Solomon

John Solomon
October 15, 2011
Wish It Would Rain
Akiva Schaffer

Andy Samberg Jorma Taccone

Jorma Taccone
November 12, 2011
Seducing Women Through Chess
Andy Samberg

John Solomon

John Solomon
November 19, 2011
Batman
Andy Samberg

John Solomon

John Solomon
December 3, 2011
Best Friends
Andy Samberg

Jorma Taccone

Jorma Taccone
December 10, 2011
Convoluted Jerry
Unknown
Unknown
January 7, 2012
Afros
Andy Samberg

John Solomon Jorma Taccone

John Solomon

Jorma Taccone

March 3, 2012
Science Finders/Ghost Finders
Andy Samberg
Jake Szymanski
March 10, 2012
Laser Cats 7
Andy Samberg

Jorma Taccone

Jorma Taccone
April 14, 2012
Gotye Backstage
Andy Samberg

Taran Killam

Jake Szymanski
April 14, 2012
100th Short
Jorma Taccone

Andy Samberg Akiva Schaffer

Jorma Taccone
May 12, 2012
Lazy Sunday 2
Andy Samberg

Jorma Taccone Akiva Schaffer Chris Parnell

Jorma Taccone
May 19, 2012
| Title | Written by | Directed by | Original airdate | Description |
| --- | --- | --- | --- | --- |
| YOLO | Andy Samberg, Akiva Schaffer and Jorma Taccone | Akiva Schaffer | January 26, 2013 | The Lonely Island, Adam Levine and Kendrick Lamar sing about the virtues of staying safe in daily life, which flips the intended meaning of YOLO with "You Ought to Look Out," and become increasingly paranoid of everything. Danny McBride cameos as a man attempting to do cocaine in a nightclub. |
↑ Featured as an Easter egg on the two-disc DVD of V for Vendetta.
↑ 2007 Emmy Awards Winner for Outstanding Music and Lyrics.
↑ In the original broadcast, the short was a full-screen image within Saturday Night Live's widescreen presentation, causing the video to be surrounded by black bars. NBC later posted a second, cropped version on YouTube to remove these bars. This version contained an alternate ending in which Body Fuzion was viewed by the characters in the film The Ring.
Community content is available under
CC-BY-SA
unless otherwise noted.