John Belushi
Date of Birth:
January 24, 1949
Years on SNL:
As Cast Member:
1975-1979
Cameos:
March 15, 1980
October 31, 1981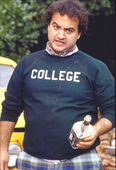 John Adam Belushi (January 24, 1949 - March 5, 1982) was a castmember from 1975 to 1979, and was among the very first cast members of SNL.
John became good friends with SNL co-star Dan Aykroyd, and the two became a famous comedy team. The two performed together in Blues Brothers and Olympia Cafe sketches, as well as in the movies The Blues Brothers, Neighbors, and 1941.
Belushi impersonated Marlon Brando, Joe Cocker, and Elizabeth Taylor, among others. Interestingly, one of his impressions, Steve Rubell, would be played in a dramatic role in the film 54 by another SNL alumni, Michael Myers, nearly two decades after Belushi's performance on SNL. Another noted performance was as himself in a commercial lampooning the Wheaties commercials of famous athletes, where he is shown competing in a pentathlon then saying "Little chocolate donuts have been on my training table for years".
John's last episode as a regular was on May 26, 1979, but made many more cameo appearances. He left to make movies. His best known movie role is arguably that of John "Bluto" Blutarkski in National Lampoon's Animal House.
Belushi was also known to indulge in bouts of drinking and involvement with drugs which eventually cost him his life. John was found dead on March 5, 1982, at the age of 33, in a hotel room at the Chateau Marmont on Sunset Boulevard in Los Angeles, California. The cause of death was a speedball, a lethal injection of cocaine and heroin. His death was investigated by forensic pathologist Dr. Michael Baden, among others, and while there was some dispute in the findings it was eventually officially ruled a drug-related accident. There was some suspicion of foul play by his companion and drug dealer at the time, Cathy Smith, who was a former backup singer for The Band.
Impressions/Characters
Edit
Impressions
Edit
Characters
Edit
Captain Ned
Frank Leary
Kevin
Kuldroth
Larry Farber
Lowell Brock
Matt Cooper
Steve Bushakis
SNL Career
Edit
1975-1979: Not Ready for Prime Time Player
March 15, 1980, October 31, 1981: Guest Star
Community content is available under
CC-BY-SA
unless otherwise noted.