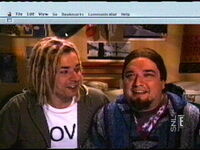 Jarret's Room was a recurring sketch from 2000 to 2004. It's presented as a webcast opened up on a Macintosh computer as if by the viewer. The webcast is hosted by two stoner Hampshire College students, the jovial cool guy Jarret (Jimmy Fallon) and the chubby, well-baked Gobi (Horatio Sanz). In the Lucy Liu/Jay-Z episode, it is revealed that the only person that watches the show is an Icelandic teenager, Yaorg (played by Ashton Kutcher, but Kutcher didn't play Yaorg until he first hosted in Season 28). It frequently featured Seth Meyers as DJ Jonathan Feinstein starting in season 27 (Seann William Scott/Sum-41) and ending in season 29 (Lindsay Lohan/Usher).
The sketch benefitted greatly from the formula of Mike Myers's Wayne's World: Jarret, the always enthusiastic and childlike host (similar to Wayne), is offset by his awkward co-host; the format is all DIY and low-budget; and the guests are all friends of the host or co-host. However, in Jarrett's Room, the humor was more drug-influenced (particularly focusing on marijuana), rather than influenced on rock and roll and pop culture the way Wayne's World is.
In the Kirsten Dunst/Eminem episode, the actress played a co-ed who hosts a similar web-cam show to Jarret, also with a co-host, played by Amy Poehler. Because of these similarities, Jarret accused her of plagiarism.
In the Al Gore/Phish episode, Al Gore played a professor who reprimanded Jarrett and Gobi for being slackers while musical guest Phish appeared as themselves, also being reprimanded by the professor, who claims that they were once students of his, he asks if they where still playing their music and tells them to "get a job, you dirty hippies".
In the Matthew McConaughey/Dixie Chicks episode, the actor reprised his Dazed and Confused role of David Wooderson, who remains at Hampshire College.
Episodes Featuring Jarret's Room
[
]
December 16, 2000 host: Lucy Liu as Jenna
February 24, 2001 host: Katie Holmes as Amber
October 6, 2001 host: Seann William Scott as Jason Stamper
December 8, 2001 host: Hugh Jackman as Stanley Justin
February 2, 2002 host: Britney Spears as Summer
May 11, 2002 host: Kirsten Dunst as Janet
November 16, 2002 host: Brittany Murphy as Holly
December 14, 2002 host: Al Gore as Dr. Ralph Wormly Curtis and Phish as themselves
February 8, 2003 host: Matthew McConaughey as David Wooderson
May 3, 2003 host: Ashton Kutcher as Yaorg
February 14, 2004 host: Drew Barrymore as Gobi's sister
May 1, 2004 host: Lindsay Lohan as Skylar
References
[
]
Jarret's Room at the SNL archives[1]