Gilda Radner (June 28, 1946 – May 20, 1989) was a cast member from 1975 to 1980, and was among the very first cast members of Saturday Night Live.
Radner's last episode as a regular was on May 24, 1980. Radner decided to leave because many of her other co-stars on the show had branched out to other endeavors.
In the late 1980s, Radner was diagnosed with ovarian cancer. Even with the support of her second husband, actor Gene Wilder, (she had previously been married to Saturday Night Live band leader G.E. Smith) she suffered extreme physical and emotional pain as a chemotherapy patient. Eventually she was told she had gone into remission, and she wrote a memoir about her life and struggle with the illness, It's Always Something. The book was written by Radner in tribute to cancer sufferers everywhere, and she used humor to overcome tragedy and pain. The book's title came from a common catch-phrase from her Saturday Night Live character Roseanne Roseannadanna, who would often quote an elderly relative by saying "It just goes to show ya...it's always something! If it's not one thing, it's another!"
In 1988 she guest-starred as herself on It's Garry Shandling's Show to great critical acclaim. She planned to host an episode of SNL that year but a writers' strike caused the cancellation of the rest of the season. She wanted to host the next year, but in 1989 doctors did a more detailed examination and discovered that Radner's cancerous cells had not all been removed and had spread to other areas of the body. She died in Cedars-Sinai Medical Center in Los Angeles, California, in 1989, where she had been admitted for a CAT scan. She was given a sedative and passed into a coma. After three days, she died without regaining consciousness, with Wilder at her side.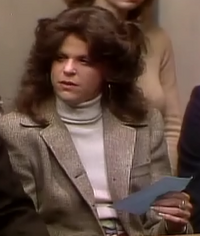 1975-1980: Not Ready for Prime Time Player
Community content is available under
CC-BY-SA
unless otherwise noted.