Fred Wolf is a former head writer for SNL. He was a writer on SNL from 1991-1997. He was also a featured player for seasons 21 and 22.
Fred Wolf started out in Los Angeles performing standup in the 1980s, landing his first major television role on the Comedy Central show Comics Only as a co-host in the early 1990s. In 1992, he was hired as a writer for SNL, serving as one of the head writers in season 21.
After leaving SNL, he has collaborated with many of his former coworkers from the show, writing and directing films with/for Adam Sandler, Chris Farley, David Spade, Norm Macdonald, and Rob Schneider.
Writer (outside of SNL):
Grown Ups 2 (2013)
Grown Ups (2010)
Strange Wilderness (2008)
I Want Candy (2007)
Without a Paddle (2004)
Dickie Roberts: Former Child Star (2003)
Joe Dirt (2001)
Dirty Work (1998)
Black Sheep (1996)
Tommy Boy (1995) (script rewrite - uncredited)
The Chevy Chase Show (1993)
1993 MTV Movie Awards (1993)
The Pat Sajak Show (1989-1990)
He will be directing the upcoming Joe Dirt sequel.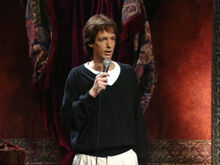 Community content is available under
CC-BY-SA
unless otherwise noted.