Charles Rocket (born Charles Claverie, August 24, 1949-October 7, 2005) was a castmember of SNL in the 1980-1981 season, and was the Weekend Update/Saturday Night NewsLine anchor.
Charles was touted by then-Executive Prodcer Jean Doumanian as "a kind of cross between Chevy Chase and Bill Murray". He was known for a segment, The Rocket Report, in which he went out into New York City with a camera crew. He, Eddie Murphy and Joe Piscopo were the stars of the season.
He became infamous for an incident in the March 7, 1981 episode. A recurring set of sketches throughout the episode included a parody of the Dallas episode "Who Shot JR", titled "Who Shot C.R.?". At the end of the episode, when asked by Charlene Tilton how he felt after being shot, he responded by saying "Oh, man, this is the first time I've ever been shot... I'd like to know who the fuck did it." When Jean Doumanian was fired after the next episode, Rocket was also let go (along with most of the rest of the cast, save Murphy, Piscopo, Denny Dillon, and Gail Matthius, though the later two only remained for one additional episode).
After SNL, Charlie did some work in independant films and other projects, such as Dumb and Dumber and the SNL movie It's Pat!. Most recently, Charlie played a Reverend in the independant film Bleach and was in the 2003 movie Shade.
On October 7, 2005, Charlie unexpectedly took his own life for reasons unknown. Initially, there was debate over whether this was true (due to lack of media coverage after the story broke), but former cast mate Denny Dillon confirmed the news. Rocket's body was found in his Canterbury, Connecticut home; his throat was cut. The Connecticut medical examiner ruled it a suicide.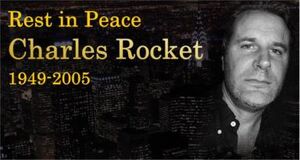 1980-1981: Repertory Player
Community content is available under
CC-BY-SA
unless otherwise noted.