Brian Doyle-Murray
Date of Birth:
31 October 1945
Years on SNL:
1979-1982
Brian Doyle-Murray (born 31 October 1945) is an American actor and writer. Brother of Bill Murray, Brian was added to Saturday Night Live in season 5 when the departures of Dan Aykroyd and John Belushi necessitated a bolstering of the cast. He was a writer for season 6 and the lone featured player of season 7, thus having the rare distinction of being involved in SNL through all three producers that the show has had. He hosted SNL Newsbreak throughout season 7.
Murray, along with brother Bill, was on Saturday Night Live With Howard Cosell before moving to SNL. While working on SNL, he wrote the screenplay to the movie Caddyshack, which was released after the warp of SNL's season 5. He later wrote the screenplay for the movie Club Paradise, in which he acted alongside former SNL costars Robin Duke and Mary Gross.
Brian Doyle-Murray had starred alongside his brother Bill in three works, playing a doctor in Ghostbusters II, playing the Mayor of New York City in the videogame version of Ghostbusters, which starred Bill Murray and the three other main actors reprising their roles, as well as starring with Bill and his third brother Frank Murray in the 1988 film Scrooged!. Interestingly, while Bill and Brian are brothers, Brian played the father to Bill Murray's character, having a small role in a flashback when Bill Murray's character is shown as a little boy.
Outside SNL, Murray is primarily a character actor. His movie credits include Caddyshack (Lou Loomis, the manager), Christmas Vacation (Frank Shirley), Wayne's World (Noah Vanderhoff), and Groundhog Day (master of ceremonies Buster Green). He also provided the voice of antagonist "Mr. Twitchell" in the animated short Frosty Returns. Following his departure from SNL, Murray also starred in the surrealistic sitcom Get a Life! in 1992, where the leading man was Chris Elliott, who would become a future cast member. Murray once again starred with Elliot in the 1993 film Cabin Boy, which was also produced by Chris Elliot.
Impressions
Edit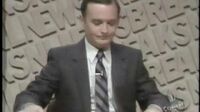 External links
Edit
Community content is available under
CC-BY-SA
unless otherwise noted.