Mr. Robinson
Occupation:
Kid's Show Host
Appearance(s):
February 21, 1981
October 17, 1981
February 6, 1982
October 2, 1982
May 14, 1983
October 15, 1983
November 12, 1983
January 21, 1984
December 15, 1984
December 21, 2019
Portrayer(s):
Eddie Murphy
Mr. Robinson
is the main star of
Mister Robinson's Neighborhood
, which was a parody of the children's show
Mister Rogers' Neighborhood
, a PBS staple where new information about the world was presented by
Fred Rogers
in a quiet, methodical, loving, and highly elocuted manner. In the sketch, Eddie Murphy's character "Mister Robinson" speaks in a similarly stilted manner, but lives in a considerably grittier venue, with slumlords hunting him down for rent and police after him for stealing groceries and defrauding children of toy money.
Rogers took no offense to the parody, finding it amusing and affectionate; he even took the opportunity of a promotional appearance on NBC to seek out Murphy in his SNL dressing room and tell him such.
Incidentally, the first installment of "Mr. Robinson's Neighborhood" where Mr. Robinson gets a package from a drug dealer named "Mr. Speedy" (played by Gilbert Gottfried), was overshadowed by the "Who Shot Charles Rocket" recurring gag that ran through the episode and the controversy over Rocket saying, "I'd like to know who the f*ck did it," during the goodnights. The book, "Saturday Night Live: The First 20 Years" has a still shot from the episode of Eddie Murphy as Mr. Robinson pointing to a sign that reads "Bitch." The character was impersonated by Ed Koch on the five-host episode, using the same set.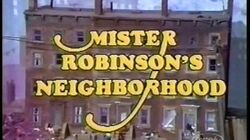 Community content is available under
CC-BY-SA
unless otherwise noted.